Guacamelee! Super Turbo Championship Edition is an indie game produced and published by DrinkBox Studios in 2014. The definitive version of the smash hit Metroidvania-style action-platformer, Guacamelee. STCE adds new levels, powers, challenges and refinements to the sprawling, ridiculous, Mexican-inspired adventure of the original Guacamelee. Gold Edition.
System requirements
System requirements for desktop computers as set by the developer. Updated on September 20, 2019.
Minimum:
OS: Windows 7, 8, XP, 2000 and Vista

Processor: 2 Ghz+

Memory: 512 MB RAM

Graphics: Shader Model 3.0, 512 MB VRAM

DirectX: Version 9.0c

Storage: 800 MB available space

Recommended laptops for GSTC
These laptops meet the system requirements set by the developer and are overall good gaming laptops.
These laptop recommendations are based on technical details and requirements. We can't guarantee that the game will run on these laptops.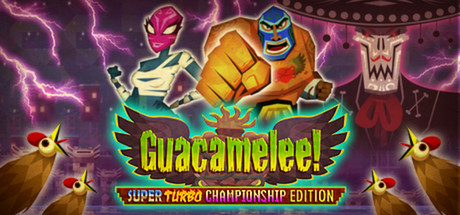 Guacamelee! Super Turbo Championship Edition on Steam
Developer's website