Sky Force Anniversary is an indie action game created and distributed by Infinite Dreams in 2015. Legendary shoot-'em-up makes its way on the PCs. Abundant explosions, truly epic boss fights and beautifully crafted 3D environments are here to keep you entertained. Sky Force Anniversary offers single player experience and local cooperative mode for 2 players.
System requirements
System requirements for desktop computers as set by the developer. Updated on September 21, 2019.
Minimum:
OS: Windows ® 8/7/Vista/XP

Processor: Core 2 Duo - 2.4 GHz or AMD equivalent

Memory: 2 GB RAM

Graphics: DirectX 9.0 compatible graphics card

DirectX: Version 9.0

Storage: 450 MB available space

Recommended laptops for SFA
These laptops meet the system requirements set by the developer and are overall good gaming laptops.
These laptop recommendations are based on technical details and requirements. We can't guarantee that the game will run on these laptops.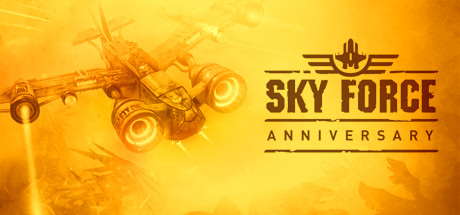 Sky Force Anniversary on Steam
Developer's website